This Il Makiage review is yet another makeup product review for those who are researching about this up and coming makeup brand. This is an honest review based from my personal experience with the brand and does not reflect the overall image of the company. I hope this serves as a fair warning to all of you "high maintenance" ladies out there who are thinking of ordering from them.
Il Makiage is a makeup brand based in NYC that was founded in the year 2013. It was founded by Shiram Holtzman Erel's  (Co-founder of Il Makiage) brother. In 2017, they opened up their first shop in NYC and with their ferocious advertising and marketing campaigns, I bet they are attracting a lot of "high maintenance" women all across the globe. 
How Does iL Makiage Work?
Il Makiage is just like any other online makeup vendor on the internet. You add stuff to your cart, checkout, and wait for your order to arrive. However, they have this really cool way of enticing women to try their product. That is, to "Try Before You Buy". In other words, you can take a quiz (or not) to determine your skin type and then they send you the shade you matched with at no cost except, you pay for the shipping at about $5. Pretty cheap, right? 
My iL Makiage Traumatizing Story
Now here comes my iL Makiage traumatizing story. I first noticed their ads on Pinterest. That take the quiz ad campaign got me. Upon seeing and reading the ad that says, try before you buy, pay only for shipping ($5), I immediately went and took the quiz to find out what shade I will match with. After which, I ordered the bottle of creamy luscious-looking foundation and went on with my life. 
After a couple of weeks, I have finally received the product and I was so excited! I was in the market for a new makeup and I thought that Il Makiage seemed like a really good brand to try. The packaging came in a black bubble wrap that had the words "minimalism is dead" etched onto it. Speaking of making a statement.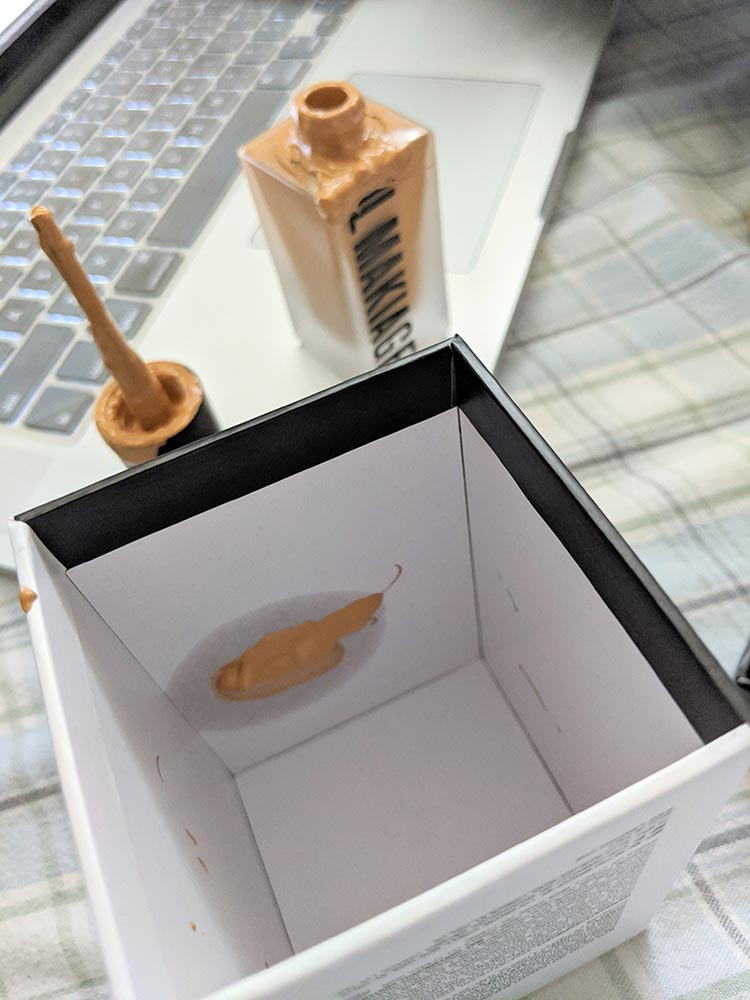 To my dismay and horror, upon opening the box that the bottle was put in, the makeup has spilled and the bottle was open. As you can see from my picture, it is not very appealing at all. Look at all the waste that has been lost from the bottle. 
I immediately opened up my mail and shot them a message saying that my makeup has spilled in the box. Their customer service is good because I received an almost instant reply from one of their care teams. They apologized and sent me a replacement in the mail. Also, they did not want the makeup back so I got to keep it. Below is a copy of Kate R.'s (the customer service rep) message to me.
Hi Kimmy!

Oh wow! I'm so sorry to hear that.

This is incredibly rare. Obviously, you won't need to send the product back, but I'm so sorry that you had this experience, and I really want to make it up to you! I can offer you one of the following options. Just reply to this email to let us know which option you prefer.

Option 1 – a second date. I'll send you a new product and extend your trial so you won't be charged until you have another 14 days to try the replacement product. We have so much potential here – you took the quiz, we ran our algorithms to match your shade, we have your details for shipping, and (most importantly!) our product is really amazing. I'd love to send you a replacement if you'll give us another shot, and I'll also give you a $20 gift card to make up for your first experience. If you choose this option, please let us know if the shade you received appeared to be a good match!

Option 2 – cancel the order: I'll make sure you won't be charged and will refund you the shipping cost.

I strongly recommend you take Option 1 and try the product, as we already have your shade and the formula is amazing. But it's your call! Let me know!

xx,



Kate R. ✨
IL MAKIAGE
Customer Service Support
So, I replied back and chose option 1 to give them another shot because I really love their product after trying the spilled makeup that they gave me. 
Days went by, and I saw a $48 charge in my bank account for the replacement makeup that has not even arrived yet. I contacted support about this and for some reason, instead of giving me an explanation and resolution on this early charge, they told me that my package was still in transit. 
Later that day, the package has arrived. I got so excited for the second time. However, to yet my dismay again, the replacement makeup was the same! It has spilled in the box again! So, I hurriedly logged in to my account at the Il Makiage online store and hit that "Create A Return" button. I was able to successfully submit it and got a confirmation through my email that I will not be charged for this order. However, like I said earlier, they already charged me even before the product arrived, which made me contact customer support again about this. Remember, I should still have the "Try Before You Buy" 14-Day grace period for restarting an order and should have not been charged on the day of arrival of the product. 
In all honesty, Il Makiage's customer support is really good. Although there were some hiccups along the way, they were very responsive and customer centric. They listened to me and what I have to say, and they are real human beings, not just bots. So, for that I give them four out of five stars. I contacted them via email and they have compensated and made up for their mistake by providing me some coupons to use on their website. 
Also, after a couple of days, I saw the refund in my bank account and I was happy about this. I ordered a lipstick from them and utilized the coupons they have given me to compensate for the inconvenience I underwent with their products. They sent me a $20 coupon and 2 $15 coupons which I have yet to use. 
My iL Makiage Woke Up Like This Foundation Review
So, how is the product itself? Did the Il Makiage Woke Up Like This Foundation deliver great results on my face despite it arriving half empty on my doorstep? Is it worth $44 for a small bottle of foundation makeup? Is the blend perfect on my skin color?
The sad truth is that the shade was a tad bit too dark for my skin tone. The quiz, however was fun but the matching was a bit off. However, had I picked the correct shade, I truly believe that the iL Makiage Woke Up Like This Foundation would've been the perfect match for me and I wouldn't have looked back to any other brand in the market. Overall, excellent quality foundation. 
My iL Makiage Overall Rating
Customer Service: ⭐⭐⭐⭐
Product Delivery: ⭐
Quality of Products: ⭐⭐⭐⭐
Product Variety: ⭐⭐⭐⭐